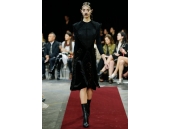 19/12/2016
THE DARK SIDE: WINTER 2016 PRESENTS GOTHIC TREND
By Juliana Zanettini
Consultant of trends and consumption, and university professor
The Gothic trend is a bet for the winter 2016. And from where does, originally,  this idea come? Despite the emergence of the term refer to the Middle Ages, the Gothic as an aesthetic reference of a subculture refers to the 1980s. Also called Darkwave, it covers the behavioral context by developments in the fields of arts, literature, architecture, music and of course, fashion.
In fashion expression, components of Gothic subculture concern the dark side and emphasize certain dramatic appeal. In the gothic trend, the obscure aesthetic asserts itself from the black colar as tonic, dialoguing sometimes with some lilac appearances. Lace, corsets and crucifixes, as well as velvet, are elements that are also part of the gothic arsenal.
Recently, winter 2016 releases for the northern hemisphere highlighted the aesthetics of the subculture as the season trend through the looks, accessories and heavy beauty. Simone Rocha, Yohji Yamamoto, Haider Ackermann, Nicholas K, Marc Jacobs, among others, comply with the Gothic traits, highlighting the use of full-bodied materials and transparencies, as well as the varnished articles for the details. The tailoring appeared as an adjuvant, modernizing the stakes for the cold season.
Among the following images, please follow the sets of transparency, the cuts and straight lines, in addition to applications and mixtures of materials that brought contemporary air from the Gothic inspiration. Rick Owens, who points out that this aesthetics of the DNA of the brand itself, supported symbologies with applications on parts of the body of the piece. Alexander Wang has already invested in the shortened silhouette, in the cuts and in the mixtures of materials, with the dark theme as a starting point for his creations.
Givenchy | Marc Jacobs | Nicholas K
Photos: Reprodução/Style.com
Rick Owens |Thom Browne | Alexander Wang
Fotos: Reprodução/Style.com