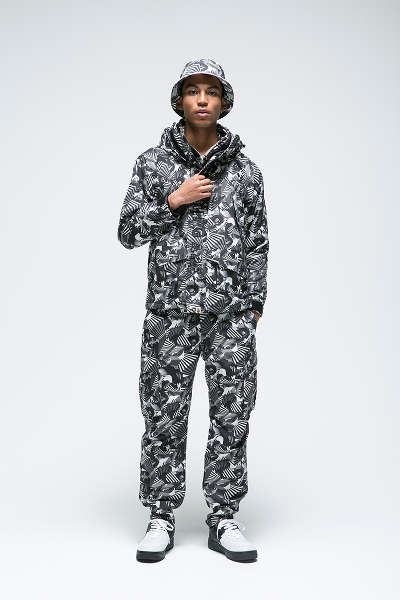 20/12/2016
SUMMER 2016: TRENDS FOR THE YOUNG MALE SEGMENT
By Luiza Freitas
Designer, Administrator and Consultant of Fashion Office
Summer 2016 of the young male segment has two main trends: in playtime, references of streets, technology and sport mix and create super fun pieces; in Summer boy, surfing appears as the main point, always much washed, very vintage.
Check below, in detail, the trends of Summer 2016 for the young male segment.
Playtime
Thestreet style is more modern and receives multiple references. Check out.
Elongated shirts with a distance of 15cm to 20cm from the last button to the lower hem; black and white; funny shirts with prints of fruits; polka dots in different sizes and colors; plaid shirt tied at the waist; shoulder down to the arm.
Asymmetrical T-shirts; with barrs; drawings scribbled handmade type; prints written in bold type; text message prints, as in social networks; B&W photos mixed with other graffiti; geometric kaleidoscopes; cuts in color blocks; reinvented.camouflaged
Elongated tanks or with mullet behind; knife edge cut.
Bermuda shorts below the knee in neoprene or resinated; elastic waistband; sweatpants type.
Skater short type; tailoring above the knee type.
Jogger pants in sweatpants or washed twill; details on colored shoelaces.
Bape Campaign: Reinvented camouflaged.
Bellfield Campaign: the street style with a more casual reading.
Reference model: set of pattern black and white photograph type, which also turns a little camouflaged, printing written in capital letters applied.
Summer boy
Especially after Gabriel Medina became the world champion, surfing is the main theme of this trend for the young male segment, but always with a vintage trace.
Many sets (matched set) with T-shirts or tanks.
Tropical shirts, worked in different proportions; aloha shirt; collars and patterns different from those of the body; small or micro prints; tye dye shirts stripes.
Ethnic shirts, handmade type; Tropical flowers; foliage and palm trees; striped effect through cuts or prints; oriental inspiration with mandalas, origami or patchwork; laundry effects (e.g. Devore, blasted); batik (Thai guy); patterned pockets in smooth body; pockets with lapel; stitched pockets inside out; prints of hyperrealistic pictures.
Shorts to wear on the beach, small shorts; walkshorts with elastic; stained.
Water bermuda shorts slimmer knee-length or slightly above, with fun prints and waistband with elastic; colored washed with details; cargo type with larger pockets.
Simples printed pants; chino type, more practical; stonewashed.
Jogger jeans, destroyed / torn; grayish; white denim; patches applied tending to Japonism or rock'n roll; shorts above the knee with shoelaces; printed; Folding barrs; matelasse; shirts with marbled effect or dip dye.
Scotch & Soda Campaign: shirt with marbled effect, well washed jeans.
Bellfield Campaign: printed shirt with tropical motifs, tapered jeans bermuda shorts and above the knee.
Reference model: long plaid shirt, patterned bermuda shorts above the knee.
What did you think of these trends? Leave your opinion in the comments of the blog.